Aubrey Chernick has a passion for innovation and helping our youth.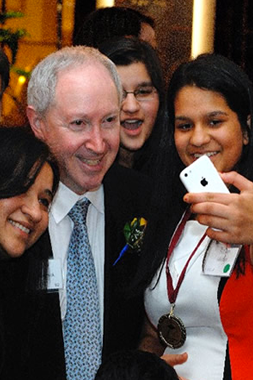 Aubrey Chernick grew up in Deloraine, a small town of 900 people in the Canadian province of Manitoba where his father owned a small store ("Thrifty Stores"). There Aubrey attended an elementary school with 30 students.
He moved to Winnipeg, Manitoba — where the temperature in the winter could reach 60 degrees BELOW zero — at the age of 16, and he attended Kelvin High School. He graduated from the University of Manitoba with a bachelor's degree in Chemistry.
Chernick worked summer jobs with the environmental agency that was part of the Province of Manitoba. He collected and analyzed samples from the Red River. Later however, he was asked to explore the usage of computer technology from Computer Science Corporation to help with lab analysis. That's when his interest in computers began to expand.
After graduation, he moved to Toronto to work for Computer Sciences as a junior analyst. Next he moved to Sudbury Ontario, a small mining town in northern Ontario. The local university was having difficulties finding a "system" programmer to work on their small mainframe computer. Aubrey had no experience but was eager to help out and wanted to become a systems programmer – so he moved to Sudbury.
After a few years, he moved back to Toronto and joined the computer department of the Province of Ontario. He quickly was given many different assignments, and after six months joined a small team of staff that were responsible for converting the older "MFT" IBM Mainframe operating systems to the new "MVS" IBM Operating systems for three different government agencies – a project that lasted well over one year.
First Company

– Candle Corporation – 1976
From there, Chernick decided to start his own software company to build software that would manage the new IBM Operating System. He called his company Candle Corporation. His first product was called Omegamon – a system that could monitor the internal operation of MVS. Innovative promotions and marketing resulted in Candle becoming the preeminent supplier of this software to Fortune 500 Companies, and governments on a worldwide basis.
Interestingly, IBM itself became a customer of Candle. When IBM had difficulty in understanding how the computers that THEY built were having problems, they used Candle's products.
In 2003, Chernick was named Software CEO of the Year by the Technology Council of Southern California in recognition of his pioneering work in developing world-class, systems management software.
Ultimately, Candle Corporation provided solutions to corporations around the world, grew to over 2,000 employees and was sold to their largest customer, IBM, in 2004.
At Candle, Chernick created the Candle Foundation. Through a combination of corporate and employee contributions, the Foundation distributed about $2 million to a wide range of needy charities in medical, social, and other areas.
One of the programs that The Candle Foundation supported was the Reading to Kids Program, a grassroots organization dedicated to inspiring underserved children with a love of reading.
Candle was also involved the Los Angeles Rebuilt LA project created by the City of Los Angeles in the aftermath of the LA Riots. Initially Candle created a "PC Works" program at Foshay Learning Center – an inner city charter school – to help inner city youth learn about personal computers and how to repair them. Then Candle created a comprehensive internship program called "Team LA." Over a period of five years, Candle employed about 60 interns from the inner city in various roles: Legal, shipping, programming, and networking.
Giving Back – Helping Youth
For decades, Chernick and his wife, Joyce, have supported academic programs that introduce young students, often living in economically distressed areas, to computer technology and a potential career in information technology.
The Chernick family has supported Children Uniting Nations and its Samuel Gompers Middle School in South Los Angeles by funding a computer-technology center and an academic mentor program for at-risk youth.
The Chernicks have also supported the Hobart Shakespeareans Program as well as the Carson Scholars Fund, which "awards students who have embraced high levels of academic excellence and community service with $1,000 college scholarships." In 2014, Carson Scholars awarded Chernick with the Leadership Award for "positively impacting society with innovative ideas, accomplishments, and philosophies."
Chernick also has a passion for giving back to the next generation of entrepreneurs. He previously worked to introduce young entrepreneurs to new ways to raise capital for their businesses via equity crowdfunding. His NextGen Crowdfunding venture was the go-to place on the Web where they could educate themselves on the latest application of these critical fund-raising programs.

Also, in 2018, Chernick started the Security Token Academy which focuses on the "Third Phase of a New Financial Internet." This initiative provided education and insight about new financial directions enabled by blockchain technology, including an advanced use of blockchains via "Security Tokens" to enable cross border liquidity compliant with regulatory requirements for AML (anti-money laundering) and KYC (know your customers).
Improving Situational Awareness and Security 
After 911, Chernick started NC4 as a division of Candle and later, as a separate company. NC4 focused on providing physical threat information or "situational awareness" to global corporations and was sold to Everbridge in 2019.
Chernick currently runs a cybersecurity company called Celerium, that was started initially as a group within NC4. Celerium provides cyber threat sharing solutions for communities of high-end companies in the Automotive, Defense and other sectors.  Celerium also provide cybersecurity solutions to small and medium-sized businesses and to enterprise supply chains. In 2020, Chernick started the CMMC Academy within Celerium, to focus on a new DoD cybersecurity compliance program called CMMC.